Twenty-one years after India gained freedom from British imperialism in 1947, about a dozen people in Mumbai with diverse academic-cum-linguistic backgrounds and social experience began to steadily gel together as a group. The group, henceforth referred to as the Mumbai Working Group (MWG), included those from academic roots in science, social science, social work, engineering, medicine, law and management and also those engaged in business and mass communication. Apart from English, the members spoke Bangla, Gujarati, Hindi, Marathi, Punjabi and Tamil. The emergence of the MWG (1968-70) was ignited by the Gandhian Vision of reconstructing India's education system for catalysing social transformation and self-reliance, primarily to liberate villages from their endemic poverty.
Genesis of Kishore Bharati (KB): The Gandhian Challenge to Colonial Education
What was common among the MWG members was their concern regarding the continuation of the colonial model of education despite two decades after freedom. This was particularly disturbing in view of India's Freedom Struggle being probably unique among the anti-colonial struggles elsewhere in incorporating a rich and dynamic discourse on an alternative vision of education. Critiquing the colonial-cum-Manuwadi model of education and envisioning an alternative was seeded in mid-19th Century by Krantijyoti Savitribai and Mahatma Jotirao Phule and carried forward by them along with Dadabhai Naoroji in their historic Memoranda submitted to the Hunter Education Commission in 1882.
Shaheed Bhagat Singh and Dr. Babasaheb B. R. Ambedkar contributed to the emerging educational discourse in 1920s and 1930s by placing it respectively in anti-imperialist and anti-caste framework. In 1937, Mahatma Gandhi presented his revolutionary vision of Nai Taleem, viewing it as the proverbial final nail in the coffin of the colonial education model.
The Pedagogic Essence of Nai Taleem
Nai Taleem, as conceived by Mahatma Gandhi, envisaged that productive work in the classrooms or in the farms/workshops would organically become the source of acquisition of knowledge, evolving social values and developing skills. This pedagogic essence of Nai Taleem led the MWG to decide that, to begin with, a Nai Taleem school would be established in a village with agriculture along with a workshop being placed at the centre of education. Undertaken with a scientific outlook, the productive work linked to learning shall provide the foundation for developing curriculum for rural development and social transformation. These ideas were interwoven together in the form of a Project Proposal for Rural Education and Development (October, 1970).
Source of Funds
MWG decided unequivocally that Kishore Bharati will neither seek nor accept funding from any foreign agency, organization or corporate. The only exception could be a student, researcher or faculty of Indian origin living abroad and personally known to any one of the MWG members, wishing to make a personal donation.
Three reasons formed the basis of the above decision. First, there is more than adequate money within the country for such endeavours. Second, if we can't convince the people within the country, it would call for self-critical introspection. Third, by convincing a potential donor, we also win the ideological and programmatic commitment from a fellow citizen!
Rural Campus at Village Palia Pipariya: The Beginning
Responding to Kishore Bharati's formal request, the Govt. of M.P. allotted 150 acres of land in March, 1972 with a notional total premium of Rs. 1 on a 30-year renewable lease for the rural campus. The land was located in Village Palia Pipariya on the eastern end of the Hoshangabad District. Our work began with the making of a hut and a concrete Ring Well for both personal use and irrigation.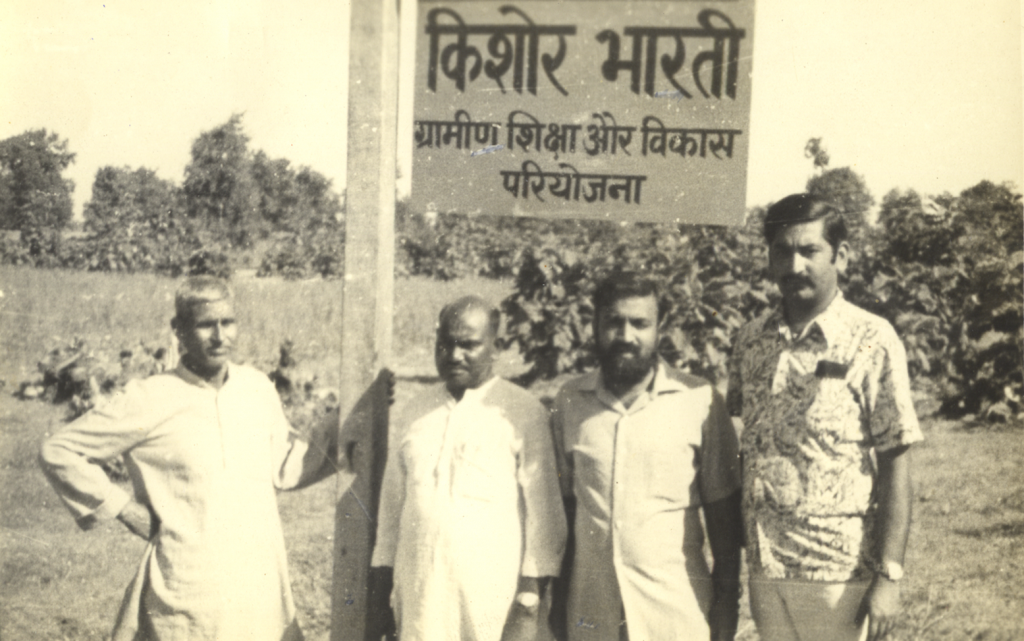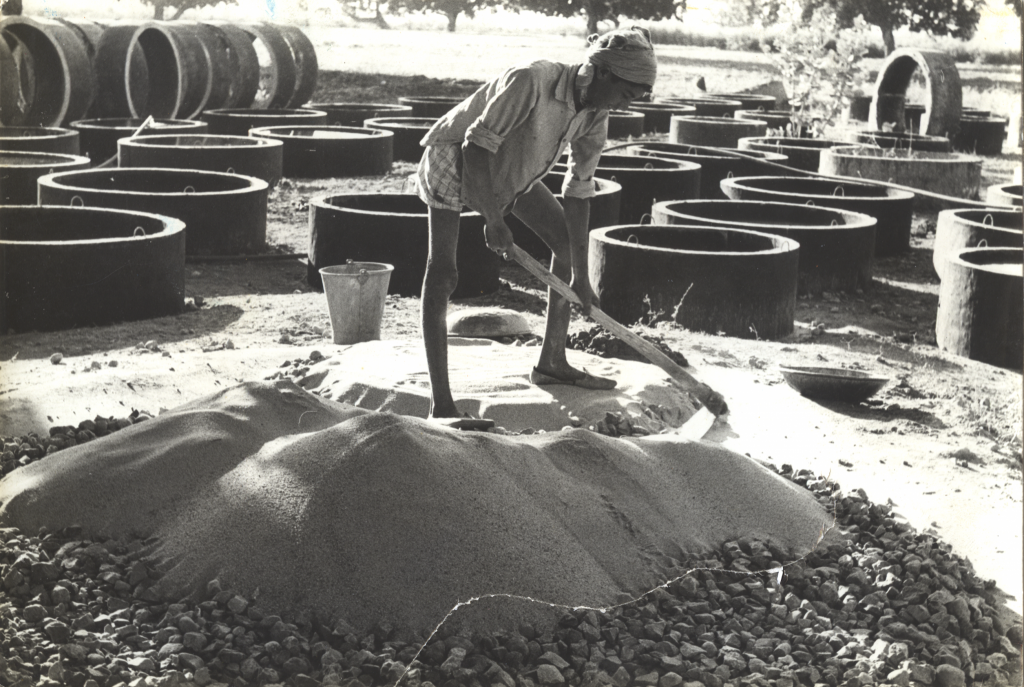 In 1972-73, farming, animal husbandry and cross-breeding along with making of concrete Rings for Ring Wells were also initiated (see Progress Report with photographs, September, 1973). In 1974, a cottage-scale unit for manufacturing chokes for tube lights began functioning.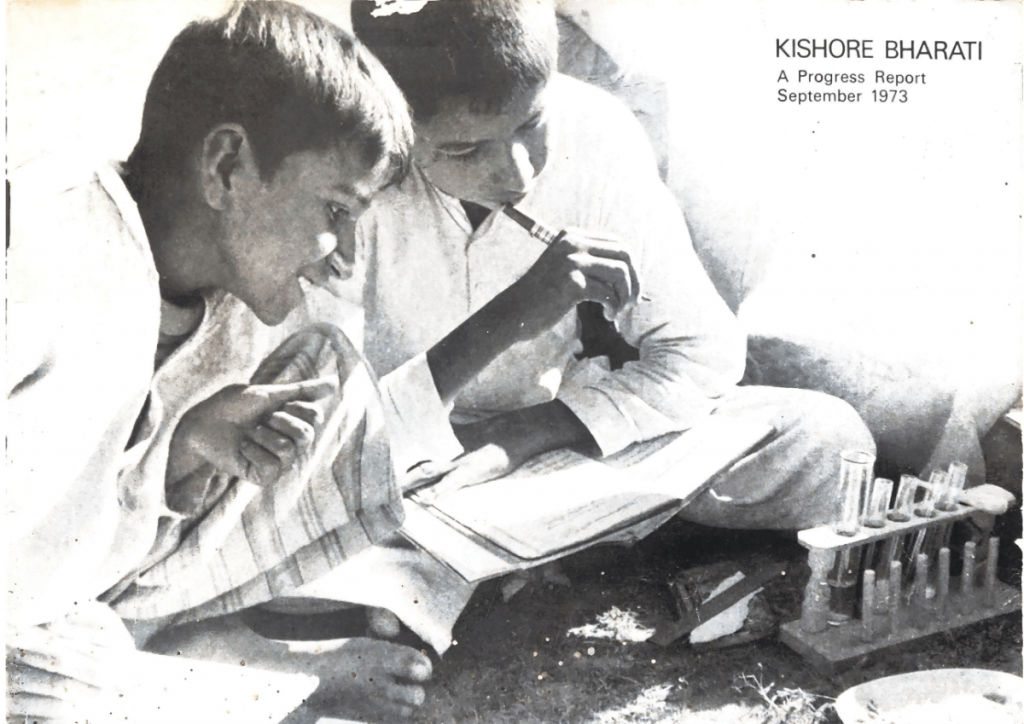 Diverse Programs: An Overview
From mid-1975 to 1985-86, apart from HSTP, the following programs were executed:
Agriculture: Farming, Horticulture, Fodder Development & Cross-breeding;
Irrigation: Manufacture and sale of concrete Rings for digging Ring Wells along with training for installing and repairing electric pump sets;
Health: Zaroori Dawai Suvidha i.e. making low-cost medicines@bulk prices available for common ailments through locally trained women; Rejuvenation of the role of Village Dais; and Interaction with Medico Friends Circle
Youth Conscientization & Social Development: Workshops for developmental action for social transformation viz., Employment generation with social justice; Community pressure for improving Public Health Services esp. TB eradication; Re-envisioning rural artisan's role in social and educational development.
Library Movement: Library & Documentation Centre at Campus as resource; Library@Pipariya town for promoting children's newspaper, women's magazine and periodic Public Lectures – all at the initiative of the local socialist youth inspired by Late Dr. Lohia and Late Sh. Kishen Patnaik; Bicycle-based Mobile Library.
Social Forestry: In collaboration with the Mazdoor Sangathan of Vill. Palia Pipariya, a mixed Social Forest was created on about 50 acres of KB's rural campus wherein seeds and saplings collected by the villagers from the neighbouring forests were planted. The local knowledge of the villagers ensured that the Social Forest would be a Barah Masee forest i.e. it would provide some useful product (e.g. seeds, flowers, fruits, leaves or other products) throughout the year.
Nai Taleem: A residential and holistic educational program with about a dozen 'push out' (not 'drop out') children belonging to marginal and/or small farmer families, while also involving them in the aforesaid programs.
Environmental Education: Organised in collaboration with EKLAVYA in the government Higher Secondary School at Chhindwara – located in the midst of coal mines which caused both air and water pollution. Under the guidance of Late Prof. G.D. Agrawal from IIT-Kanpur, the students learnt to measure water pollution levels and share the data to make aware both the public and the District authorities.
Gender Equality and Women's Liberation: Women discussion groups were formed in both the Village Palia Pipariya and the Pipariya town to raise the issues of women oppression and pursuit of gender equality. In Pipariya town, a women magazine was brought out, rallies were organized and poster exhibitions put up in the centre of the market. A group of women participated in the all-India women convention as well.
Bhopal Poisonous Gas Disaster: A team of its 7-8 members, including scientists, engineers and doctors, was deputed to work in Bhopal with a view to ensure scientifically sound medical relief and rehabilitation of the gas victims and just compensation by the Union Carbide., as reported in Hindi booklets titled Dollar Kee Chaal Ne, Jahar Ghola Bhopal Mein & रुका हुआ फैसला, ठहरा हुआ दर्द और उभरता आक्रोश, both being Kishore Bharati publications.
During 1987-90, the following three programs were organized viz. (a) Fertility Awareness Education Program for both women and men (see जंजीरों को तोड़ते हुए i.e. Janjeeron Ko Todate Hue, a Kishore Bharati publication; (b) Children's Activity Program; and (c) People's Science Movement in rural area.
Significantly, the grassroots experience of the local people, esp. the village Mazdoor Sangathan, taught us that there is no epistemic compartmentalization between Science and Social Science. The two disciplines are interwoven, enriching each other (See सवालों से उजाले तक जन आंदोलन में विज्ञान की भूमिका & Between Question & Clarity: The Place of Science in People's Movement– both Kishore Bharati Publications).
Hoshangabad Science Teaching Program (HSTP)
In May, 1972, the first 3-week long school teacher orientation of the Hoshangabad Science Teaching Program (HSTP) was organized by the Friends Rural Centre Rasulia (henceforth called the 'Rasulia Centre') in collaboration with Kishore Bharati for teachers of 16 government middle schools (Class VI-VIII).
In July, 1972, HSTP's monthly follow-up meetings with teachers and regular follow-up visits to the schools started. UGC provided teacher fellowships for faculty from colleges and universities to participate in HSTP from 1973 onwards.
In 1978, the HSTP was expanded from 16 middle schools to all of 280 odd middle schools of the Hoshangabad District, involving about 650 teachers, this time including Higher Secondary School teachers and school inspectors as well.
In 1982-83, KISHORE BHARATI proposed the handing over of the HSTP leadership to the then almost 100-member HSTP Resource Group comprising faculty and PhD scholars from Delhi University & TIFR-Mumbai, along with the Madhya Pradesh Govt. College teachers. Accordingly, EKLAVYA was created as an autonomous registered body with its office at Bhopal. Thus, after its inception and district-level expansion, HSTP was formally handed over by Kishore Bharati to EKLAVYA.
Engaging with People's Movements
Kishore Bharati's tryst with the People's Movements, especially peasant & tribal movements of Maharashtra & Madhya Pradesh, began in 1977-78. The historic trade union movement of the iron ore contract workers of the Bhilai Steel Plant in Dalli Rajhara, Chhattisgarh was then just emerging under the leadership of Shaheed Shankar Guha Niyogi. Niyogi's philosophy of 'Sangharsh aur Nirmaan' ('struggle & reconstruction') captured nation-wide imagination. Kishore Bharati members worked with the said trade union movement and acquired insights into social movements.
Winding up the Rural Campus
By 1988-89, the Kishore Bharati field-based group felt that management of the rural campus and other administrative matters demanded disproportionate attention and energy, leaving little time for the core programs. This adversely affected the credibility of the programs. Various constructive options were examined but to no avail. Finally, in 1989, KB's Executive Committee decided to wind up the rural campus and officially return the leased land to the Govt. of M.P., along with all the buildings, ring wells, orchards, social forest and other immoveable assets. The decision of the Executive Committee was carried out by mid-1991.
After the Winding up the Rural Campus
KB's Executive Committee decided to go into a period of 'hibernation' in order to introspect and analyse the experience even as it continued to fulfill all the legal and technical requirements of a registered Society/Trust, including annual audit and income tax rules.
Kishore Bharati in its New Avatar (1995-2015)
From mid-1995 onwards, KB's Executive Committee started deliberating on the impact of the neo-liberal economic policies on education. In particular, the World Bank's cynical intervention in India's primary education through DPEP became a matter of deep concern.
By the year 2000, the Executive Committee had taken serious note of how the World Bank's intervention was diluting and distorting India's elementary education system and redefining crucial concepts in Higher Education as well with a view to convert Higher Education into a marketable commodity. The Ambani-Birla report in 2002 blatantly reinforced this assault on Higher Education, thereby adversely influencing the GoI policy.
In this backdrop, the Executive Committee approved a proposal to campaign for rejuvenating the Kothari Education Commission's historic recommendation (1966) as well as the resolve of NEP, 1986 and NEP, 1992 to build a state-funded Common School System (CSS). Accordingly, Kishore Bharati initiated a people's campaign in various parts of the country from 2004 onwards to mobilize public opinion in favour of the CSS concept. The campaign persuaded the National University of Educational Planning & Administration (NUEPA) in Delhi to organize a National Seminar in 2006 to revisit the Kothari Education Commission and a follow-up National Seminar on Common School System in 2008.
The CABE Committee on 'Free & Compulsory Education Bill' in 2004-05 was persuaded to take cognizance of the idea of Common School System for providing equitable education as a Fundamental Right. In spite of this public pressure, the CABE Committee did not provide for Common School System in its final Draft Bill. Hence, a nation-wide platform named All India Forum for Right to Education (AIFRTE) was constituted in June, 2009 by several like-minded organizations which brought the issue of Common School System at the centre of the national educational discourse, the continuing neo-liberal assault by the World Bank in collusion with WTO notwithstanding. KB provided selected support to AIFRTE at crucial conjunctures from time to time.
KB's New Avatar & Change of Leadership
In 2015-16, KB's Executive Committee decided that time had come to bring in younger people with new ideas and gradually replace the old leadership (some of them continuing since 1970). Nation-wide search was initiated. Consequently, the three crucial offices are presently occupied by Prof. G. Haragopal, Hyderabad as the Chairperson; Prof. G. Nagarjuna, Navi Mumbai as the Secretary and Sh. Ketan Premani, Navi Mumbai as the Treasurer, all of whom joined the Board of Trustees in or after 2016.
It took 52 years for Kishore Bharati's old leadership to be replaced by the new leadership. KB is presently developing its own website, apart from having instituted a nation-wide program called CUBE (Collabortaive Undergraduate Biology Education) led by Prof. Arunan, M.C., a Trustee himself. Prof. Nagarjuna G. (GN), who joined as a trustee at the end of 2019, is currently the Secretary of Kishore Bharati. Please see the current members of the board of trustees.
The new team is currently busy creating a digital library of all the documents that were accumulated so far during the last 50 years, expanding the Home Lab Movement to various places in collaboration with other individuals and organizations, and explore new pathways to complete the unfinished vision and agenda of authentic and alternative education by networking with various individuals and organizations with similar goals: towards a living academy and Asli Taleem.
Two events on celebration of 50 years of Kishore Bharati are being planned, one on Reflection on Kishore Bharati's Journey and another on Chintan Shibir (Thinking Workshop) for Path ahead.