Gandhi's Nai Taleem agenda offered a vision to build free-India's education in a manner that would spearhead a silent reconstruction of our society and would also be linked to the developmental aspirations of the people. During 1969-70, out of a deep concern for the way where this vision was side-lined to push Macaulay's model of colonial education for maintaining status quo, the KB Group decided to initiate six-year non-formal educational programme along the lines of Gandhian Nai Talim philosophy. This programme sought to carry out educational experiments with a view to explore the path of educational transformation that leads to social change.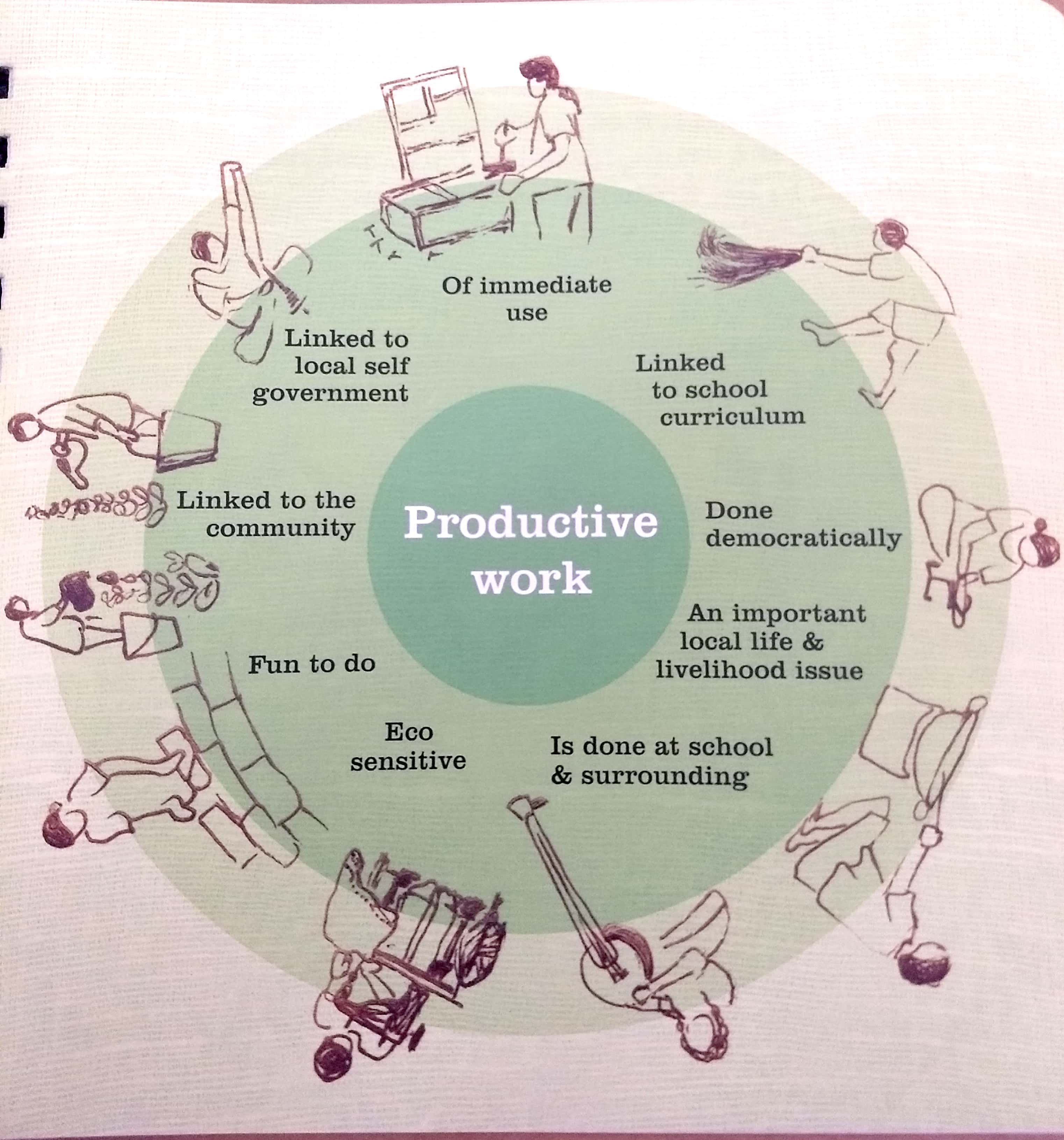 Even today, Gandhi's Nai Taleem idea holds the potential to address the challenges of the 21st century. A meaningful career for today's youth is defined at pursuing passion for which it has skills, and which in turn are sought by the society. Industry searches for affordable but high-quality manpower with a flexible framework. Universities strive to offer degrees that impart knowledge applicable to the industry and relevant to the society. Lastly, government and community want youth to be positively channelled and engaged in creative pursuits. An education system based on the pedagogic basis of Gandhi's Nai Taleem addresses all these challenges together, demonstrating the connection between the world of education and the world of work. Gandhi acknowledged of how education and work cannot be tackled separately and how productive work can act as a pedagogic source of acquiring knowledge, evolving values and developing skills.
Kishore Bharati's Nai Taleem programme was an experiment outside the school system, as against to its within the school system Hoshangabad Science Teaching Programme. About a dozen school dropouts belonging to landless and marginal farmer families became students under this programme. They learned to acquire knowledge, build human values and develop multiple skills by growing groundnuts, managing animal husbandry, doing carpentry and selling their products in the local market. What Gandhi said in his historic address to the Wardha Conference (1937) was concretized as a pedagogy in this programme during 1972-78. The Nai Talim experiment was influenced and enriched by the addition of a significant minor irrigation programme based on the appropriate technology of Ring Wells as well as a cattle breeding-cum-animal husbandry programme. Soon, a set of agricultural innovations aimed at engaging with cultivation in sandy soil began to occupy the central stage. KB's attempt to set up a cottage industry- production of electrical chokes for tubelights and training programme for repair of electrical motors of pump sets- is yet another evidence of how the Nai Talim idea was being transformed into a multi-dimensional rural development programme. The rich experience of the 5-6 years long experiment unfolded a range of radical pedagogic possibilities that seem to transcend even Gandhi's own ideas, at least as far as practiced by his followers since early 1940s. It was again through the Nai Talim experiment that the KB group could discover the Freirian pedagogy of social transformation that awakened it to a new educational discourse in the post-emergency period.
The pedagogy of productive work, language and knowledge:
This case from a small village in the district of Hoshangabad nicely depicts the working of the Nai Talim. Anil Sadgopal in his lecture at Vidyapeeth in Gujarat presents, based on his six years' experience of carrying out the, a dream example of how Nai Talim works.
Title: मेकॉलेवाद बनाम फुले-गांधी-अंबेडकर का मुक्तिदायी शैक्षिक विमर्श / (Macaulayian framework Vs Phule-Gandhi-Ambedkar's emancipative educational discourse)
Title: उत्पादक काम, भाषा और ज्ञान का शिक्षाशास्त्र / ( Pedagogy of productive work, language and knowledge)
Title: शिक्षा विषमता और विविधता / (Education, disparity and diversity)
Title: शैक्षिक परिवर्तन – अनुभव, विश्लेषण और सबक / (Educational transformation – experience, analysis and lessons)
Title: शिक्षा नीति पर नवउदारवादी हमला / (Neo-liberal assault on education policy)
Title: शिक्षा नीति का राजनैतिक अर्थशास्त्र / (Political economy of education policy)
Title: शिक्षा अधिकार के मायने / (Implication of right to education)
Title: उत्पादक काम और स्कूली शिक्षा / Productive Work And School Education
Work and Education is a document published by NCERT as a part of NCF 2005
"Our education has got to be revolutionised. The brain
must be educated through the hand. If I were a poet,
I could write poetry on the possibilities of the five fingers.
Why should you think that the mind is everything and
the hands and feet nothing? Those who do not train their
hands, who go through the ordinary rut of education,
lack 'music' in their life. All their faculties are not trained.
Mere book knowledge does not interest the child so as
to hold his attention fully. The brain gets weary of mere
words, and the child's mind begins to wander. The hand
does the things it ought not to do, the eye sees the things
it ought not to see, the ear hears the things it ought not
to hear, and they do not do, see or hear, respectively what
they ought to. They are not taught to make the right
choice and so their education often proves their ruin. An
education which does not teach us to discriminate
between good and bad, to assimilate the one and eschew
the other is a misnomer."
— Mahatma Gandhi
Discussion with Teacher Trainees, Harijan, 18 February 1939
Click here to read more on Work and Education publication